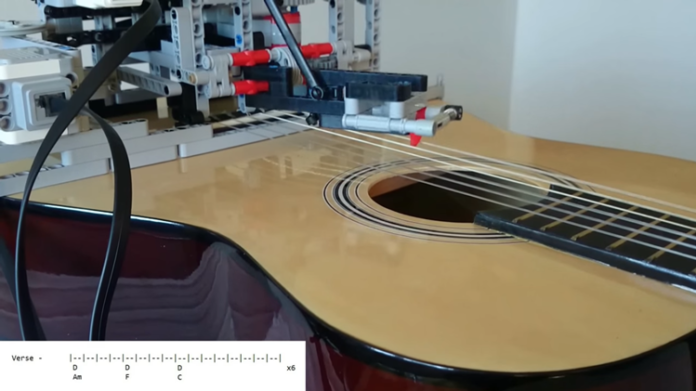 Telset.id, Jakarta – Anda pasti tahu apa itu LEGO. Ya, mainan yang mampu membuat penggunanya mengerahkan seluruh imajinasinya untuk membangun sesuatu tersebut ternyata bisa dipadukan dengan teknologi untuk menghasilkan sesuatu yang bagus, yakni Robot LEGO yang jago main gitar.
LEGO Mindstorm EV3 merupakan sebuah robot dengan bahan dasar LEGO yang dibuat oleh para penyuka musik dan tentunya LEGO, yakni TECHNICally Possible. Para kreator tersebut membuat LEGO untuk bisa bermain gitar akustik dengan cukup piawai.
[Baca juga: Kenalin, Robot Salto yang Pintar Loncat]
Dalam video yang diunggah dengan durasi 4 menit tersebut, LEGO Mindstorm EV3 mampu memainkan gitar akustik untuk meng-cover lagu "Little Talks" yang dibawakan oleh Of Monster And Men.
Dalam video itu juga dijelaskan jika pembuatan LEGO Mindstorm EV3 yang membutuhkan beberapa parts untuk memungkinkannya bermain gitar akustik. Bahan-bahan tersebut seperti 1 buah Intelligent Brick, 2 buah penggerak L serta 2 buah penggerak M.
[Baca juga: Robot Ini Punya 'Keseimbangan Tubuh' yang Luar Biasa]
Sayangnya, jika Anda melihat video di bawah, ada suara-suara berisik yang cukup, yakni suara penggerak yang bahkan hampir menutupi suara alunan gitar yang dimainkan robot LEGO tersebut. Namun secara teknis, LEGO Mindstorm EV3 mampu memainkan lagu Little Talks dengan cukup baik. Bagaimana menurut Anda? (FHP/HBS)