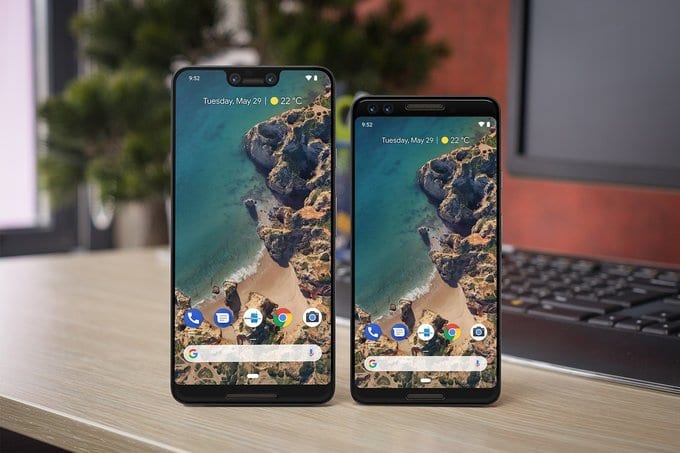 Telset.id, Jakarta – Google diduga sedang mempersiapkan ponsel Pixel 3. Dugaan tersebut diperkuat dengan kemunculan screen protectors alias pelindung layar untuk Google Pixel 3 dan Pixel 3 XL.
Dilansir BGR, berdasarkan screen protectors yang ditemukan di situs mikroblogging Weibo, Google Pixel 3 dan Pixel 3 XL akan tampil dengan bezel tipis dan notch alias poni ala iPhone X.
Tak cuma itu, Google Pixel 3 dan Pixel 3 XL bakal disokong pula sistem operasi Android P. Potongan screen protectorsjuga mengisyaratkan s Google Pixel 3 dan Pixel 3 XL akan ditopang dua kamera depan.
Speaker Google Pixel 3 dan Pixel 3 XLbakal berada di bawah layar. Mengikuti tren, Google Pixel 3 dan Pixel 3 XL tetap memiliki aspek rasio 18:9. Namun, layarPixel 3 XL lebih besar.
Dalam hal produksi, Google kemungkinan akan mempercayakan kepada LG. Sebelumnya, LG telah memproduksi Google Pixel 2 XL, sedangkan Pixel 2 diproduksi oleh HTC.
Google berharap, kehadiran duo ponsel terbaru tersebut bakal moncer. Sebab, angka penjualan Google Pixel dan Google Pixel 2 hingga akhir 2017 lalu cuma sebanyak 3,9 juta unit secara global
Direktur peneliti European Consumer Wireless and Mobile Communications IDC, Fransisco Jeronimo, menyebut bahwa angka penjualan Google Pixel sebesar itu tergolong kecil.
"Jumlah (penjualan Google Pixel) cuma setara penjualan iPhone selama seminggu. Benar-benar kecil," ujar Jeronimo seperti dikutip dari The Verge, Jumat (16/2).
Meski demikian, Jeronimo mencatat bahwa penjualan Google Pixel meningkat dua kali lipat pada tahun lalu. Lembaga riset Kantar Worldpanel merangkum, pangsa pasar Google Pixel naik dari 1,8 persen menjadi 2,8 persen.
Seiring langkah Google mengakuisisi tim desain HTC senilai 1,1 miliar dolar Amerika Serikat, bukan tidak mungkin kalau perusahaan akan mencatatkan nilai penjualan yang lebih besar di segmen perangkat keras. [BA/HBS]
Sumber: BGR