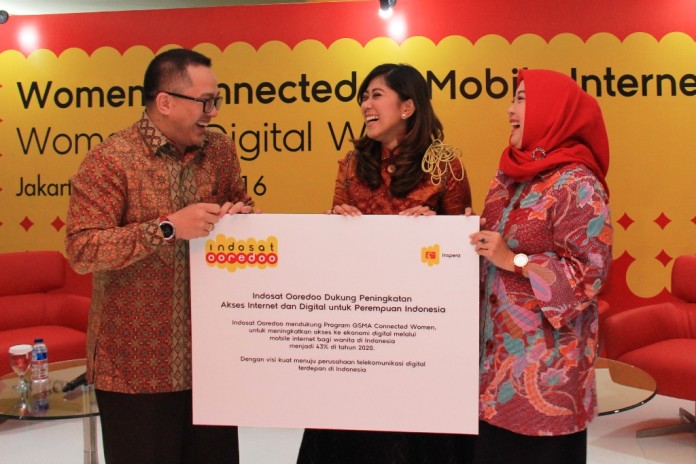 Telset.id, Jakarta – Indosat mengajak perempuan Indonesia untuk lebih memanfaatkan internet dan teknologi digital, melalui acara Talkshow dan Masterclass bertajuk "Women Connected to Mobile Internet: Women in Digital Era".
Berlatar belakang Hari Wanita Sedunia (Women's International Day) yang jatuh pada tanggal 8 Maret, Indosat membuat rangkaian acara untuk mendorong kampanye meningkatkan akses perempuan  ke mobile internet dan dunia digital.
President Director and CEO Indosat Ooredoo, Alexander Rusli mengatakan, Ini lebih dari sekadar konektivitas. Kita ingin memastikan teknologi digital dapat dipahami dan dimanfaatkan untuk memaksimalkan potensi perempauan sehingga mereka dapat meraih mimpi, cita-cita, dan kualitas hidup yang lebih baik.
"Komitmen ini kami wujudkan melalui program CSR Indosat Ooredoo pilar Women Empowerment yang telah menjadi bagian dari pilar utama program CSR kami sejak 2012,"ungkapnya
Saat ini Indosat memiliki program CSR yang dikhususkan kepada kaum perempuan, yakni Inspirasi Perempuan Indonesia (INSPERA). INSPERA memiliki fokus pada dua program utama.
Pertama meningkatkan kemampuan dan keterampilan perempuan untuk dapat memperoleh penghasilan, serta memberikan akses pendanaan dan layanan keuangan. Kedua, meningkatkan jumlah perempuan untuk mendapatkan akses informasi dan fasilitas telekomunikasi melalui berbagai layanan dan aplikasi, kegiatan komunitas perempuan, seminar, sharing, pameran digital, dan kewirausahaan.
Melalui acara Talkshow & Masterclass "Women Connected to Mobile Internet: Women in Digital World", Indosat berharap dapat memenuhi fokus yang kedua. (MS)