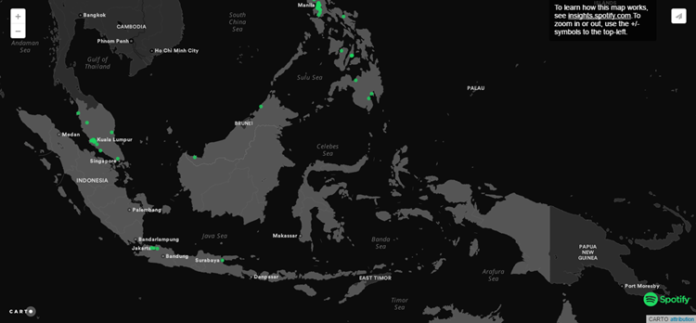 Telset.id, Jakarta – Apakah Anda ingin tahu musik baru dari seluruh dunia? Mungkin Spotifiy bisa membantu Anda. Layanan musik streaming ini baru saja meluncurkan "Map of the World 2.0" yang memungkinkan penggunanya melihat "peta" musik dunia.
Peta musik dunia yang dimaksud adalah  top chart dari seluruh dunia. Tapi bukan sekedar top chart biasa yang sering kita lihat, Spotify mengemasnya menjadi bentuk seperti Google Earth. Banyak sekali musik-musik terbaik yang didengar di beberapa kota besar di tiap negara. Tentunya setiap musik yang masuk ke top chart tersebut adalah asli dari tiap negara.
Hal itu dilakukan Spotify karena mereka meyakini bahwa musik adalah bahasa yang universal yang pastinya memiliki berbagai variasi antara satu lagu dengan lagu lainnya. Lantas bagaimana menggunakannya?
[Baca juga: 5 Cara Maksimalkan Aplikasi Spotify]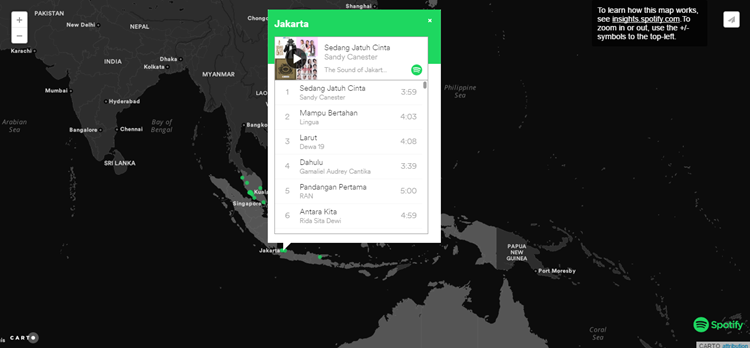 Mudah kok, pertama yang harus Anda lakukan adalah akses Map of the World 2.0. Jika ingin mencari negara yang ingin dilihat top chart musiknya, arahkan saja menggunakan drag saja menggunakan kurson ke negara yang diinginkan. Untuk memperbesar atau memperkecil gambaran map, klik tombol + atau – di kiri atas layar. Selanjutnya adalah, klik kota yang ingin dilihat yang berwarna hijau.
Spotifiy menyebutkan semua musik pada layanan ini selalu diperbarui tiap minggunya. Jadi, yuk kita lihat Google Earth ala musik dari Spotifiy. (FHP/HBS)